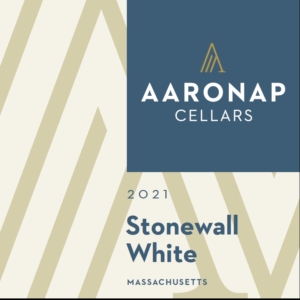 Price:  $18

Summary:  New England's rugged glacial past is showcased by the stone walls that crisscross the region, binding home and hearth to the land.  The glacial stones ground into the local soils over the centuries also provide a mineral backbone to this crisp dry white wine.  Seyval Blanc, a hybrid grape varietal that has found a rich home in in the glacial till of coastal Massachusetts, forms the basis of this wine.  We add a small amount of aromatic grape varietals to enhance the floral character.
Tasting Notes:
Summery notes of bright pineapple, kiwi, honey, green apple, & grassy herbs grace the nose.  The wine slides across the palate and lingers with a delightfully crisp mineral-laden finish.
Food Pairing Suggestions:
Delicious paired with teriyaki chicken, grilled shrimp, grilled bluefish, roast chicken, basil pestos, roasted artichokes, or a creamy soft cow's milk cheese.
Aging Potential: 2-3 years
Technical Data
Appellation: Massachusetts
Vineyard: Coastal Vineyards, South Dartmouth, MA
Varietal Composition: 95% Seyval blanc / 5 % Aromella
Aging Protocol: 11 months stainless steel.
Alcohol: 11.5% ABV
pH: 3.2
Production Volume: 745 bottles
Vintage and Production Notes
Seyval Blanc grapes were crushed and pressed after 12 hr skin contact time.  The unclarified juice was fermented at 60°F in stainless steel using Uvaferm SVG yeast.  Malolactic fermentation was prevented by the addition of SO2 while aging over the fine lees in stainless steel for 9 months.  A small portion of Aromella (Coastal Vineyards, South Dartmouth, MA) was added to elevate the aromatics.  Prior to bottling, the wine was filtered to 1.5 microns.
Prior Vintages
2020 Stonewall White, Massachusetts
2019 Stonewall White, Massachusetts
2018 Stonewall White, Finger Lakes, NY
2017 Stonewall White, Finger Lakes, NY
2016 Stonewall White, Finger Lakes, NY

2015 Stonewall White, Massachusetts
Reisling grapes from Salt Creek Vineyards, Darmouth, MA were hand picked on October 4, 2015 and whole-cluster pressed. The juice was cold settled, racked, and innoculated with Maurivin B yeast. Seyval blanc grapes were hand picked on October 11, 2015. After destemming, the juice was kept in contact with the skins for 1.5 hr, bladder pressed, and cold settled overnight. The clarified juice was combined with the reisling must and innoculated with Maurivin B. Fermentation temperatures were maintained below 60°F during the 14 day fermentation. Malolactic fermentation was prevented by addition of SO2 while aging in stainless steel. After 5 months, the wine was filtered to 0.45 microns and bottled.  80% Seyval Blanc – 20% Reisling