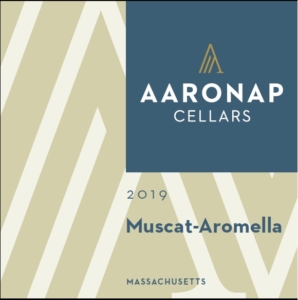 Price:  $16.00

Wine Summary:  
Aromatic grape varietals hold a special place in any winemaker's heart.  These unique varietals produce unique organic compounds called terpenes that yield intense floral and fruity aromas.  Of all of the aromatic varietals, the ancient Muscat grape is known to be the leading terpene producer with intense grapey floral aromas.  Aromella is a new cold-hardy aromatic varietal developed by Cornell University that features a huge bouquet of floral rose and honeysuckle.  We bring these two varietals together to yield a semi-sweet wine exploding with floral character.
Tasting Notes:
Opening this bottle reveals a veritable summer garden exploding with intense pink rose, honeysuckle, pear orange rind, and lavender aromas.  Sweet on the finish with a hint final crispness.
Food Pairing Suggestions: Muenster cheese and crudites, rich roasted duck or chicken dishes, roasted pumpkin or squash, or Thai curries and peanut satays.
Aging Potential: Drink now!
Technical Data
Appellation: Massachusetts
Vineyard: Coastal Vineyard, South Dartmouth, Massachusetts
Varietal Composition: 70% Muscat / 30% Aromella
Aging Protocol: 12 months in stainless steel
Alcohol: 11% ABV      pH: 3.27     Production Volume: 335 bottles
Vintage and Production Notes
Muscat and aromella grapes flourished in the dry summer and ocean breezes along the Dartmouth coast.  Both varietals were hand-harvested, gently pressed, and fermented separately with W-15 yeast.  After 8 months lees aging in stainless steel, the varietals were blended and aged for an additional 4 months.  Prior to bottling, the wine was sweetened with cane sugar and filtered to 0.45 micron.