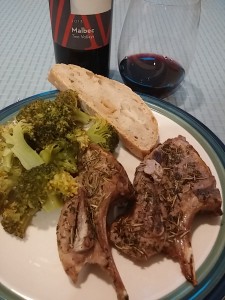 <![CDATA[I really do enjoy selling my wine at local farm markets.  Besides the necessary part of selling of wine, I get to meet and interact with so many other small local food producers.  Perhaps the best part is bringing their products home to pair with my wine! Couple of weeks ago, I splurged at Earnest Farms (Bolton, MA), a loaf garlic-rosemary ciabatta bread from Purple Carrot Artisanal Bread Bakers (Lowell, MA), and "On The Lamb" spice blend from Soluna Garden Farm (Winchester, MA).  The chops had thawed by Monday evening, so I went to work! The lamb chops received a generous rub of the "On The Lamb" mix of rosemary, mint, summer savory, thyme, marjoram, and parsley and allowed to sit for 10 minutes before being grilled over medium-high heat (approximately 5-6 minutes per side).  While I was busy on the grill, my lovely wife Shawna was taking care of the vegetable—some steamed broccoli (little early for local, so grocery store broccoli had to suffice).  Add some sliced bread and we were ready to eat! We paired this fantastic smelling plate with our 2013 Malbec Two Valleys.  A lovely blend of malbec grapes from the Curico & Colchagua Valleys in central Chile that paired really well with the lamb!  The black plum and blackberry aromas highlighted the mint & marjoram notes on the lamb, while the earthy black truffle flavors melded with the garlic, rosemary, & thyme.  The finish was exquisite with the black pepper and lingering tannins cutting through the juicy fat of the lamb.  And don't get me started on that ciabatta bread!
In a word….yum! Check out your local farm market (or come out to Mill No 5 on Sundays from 10-2) for the best in local meats & foods.  There's an amazing world of good stuff out there just waiting to be eaten.  Be sure to check the wonderful folks who raised the lamb and spices for this yummy dish.  Purple Carrot's bread is so amazingly good, it should be illegal.   Cheers! Noel, winemaker]]>
https://aaronapcellars.com/wp-content/uploads/2015/06/Lamb_Malbec_Bread_2-225x300.jpg
300
225
Noel Powell
https://aaronapcellars.com/wp-content/uploads/2019/04/aaronap-logo2019.png
Noel Powell
2015-06-30 15:31:06
2019-04-24 15:03:08
Local Lamb & Malbec Two Valleys 2013...Perfection!