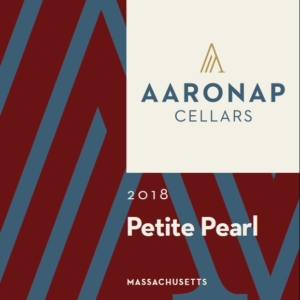 Price:  $20.00

Summary:  Just like our winemaker, the Petite Pearl grape hails from the Midwest.  Developed by grape whisperer Tom Plocher at his Minnesota vineyard nursery, Petite Pearl represents a huge step forward for winemaking from cold-hardy varietals.  Think "Syrah" and you'll immediately recognize the jammy fruit profile of this unique grape.  Our partner grower talked me into trying a batch of this grape in 2018, and I was hooked as soon as the grape lugs were loaded into my pickup.  Huge tight bunches of thick-skinned red grapes that gleamed in the afternoon sunshine.  At the winery, I was not disappointed with intense aromas during crushing…the rest is history!
Tasting Notes:
Intense aromas of fresh blackberry, plum, raspberry fruit.  The palate is enhanced by light black pepper and mocha flavors that linger on the tongue.
Aging Potential: Drinkable in 2020-2021, but should age gracefully over the next 3-7 years.
Food Pairing Suggestions:  BBQ ribs, aged Gouda cheese, roasted duck breast, wood-fired pizza, stuffed mushrooms, black bean chili, or seared tuna.
Technical Data
Appellation:  Massachusetts
Varietal Composition: 100% Petite Pearl
Aging Protocol: 25% in 2 year old French oak for 12 months.  75% in O2-porous Flextank.
Alcohol: 12% ABV
pH: 3.75
Production Volume: 739 bottles
Vintage and Production Notes
In 2018, our South Dartmouth partner vineyard escaped the torrential downpours that drenched central and northern Massachusetts.  The coastal breezes and sunshine encouraged tannin production and cluster ripeness.  After hand-picking, the full, tight clusters were destemmed and fermented with RP-15 yeast.  After 14 days, the wine was pressed from the skins into an O2-porous Flextank and a stainless steel tank for malolactic fermentation.  25% of the wine was aged in a 2 year old French oak barrel for 12 months.