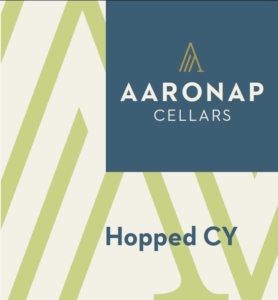 Price:  $12.00

Summary:  Innovation…is the cornerstone of Aaronap Cellars.  We're thrilled to push the boundaries of contemporary winemaking by offering this unique dry-hopped wine.  A long-time friend "CY", a premier brewmaster of exquisite hoppy IPAs, had long encouraged me to blend the best of wine and beer making and explore adding hops to wine.  Over the years, we've refined our experiments choosing different grape varietals and hops until we reached this masterpiece that combines the best of local vine and bine for a very unique tasting wine.
Tasting Notes:
The nose explodes with floral and citrus aromas propelled outward by a darker dried hay, cedar, and pine resin backbone.  A light effervescence highlights the hay and green grass aromas, which linger on the deliciously crisp finish.
Aging Potential: Who knows how long a hopped wine will age?  Why bother….drink it now!  We'll make more.
Technical Data
Appellation: Massachusetts
Vineyard:  Coastal Vineyards, South Dartmouth
Varietal Composition: 100% Cayuga White dry hopped with Nelson Sauvin and Calypso hops
Aging Protocol: 12 months stainless steel.  Dry-hopped for 10 days.  Bottle conditioned for 6 months
Alcohol: 11% ABV
pH: 3.32
Production Volume: 144 bottles (375 mL)
Vintage and Production Notes
The Dartmouth, MA area escaped most of the near-constant rains during the summer of 2018.  In that slightly drier neck of Massachusetts, the Cayuga grapes swelled with aromas.  Most of our Cayuga goes into our famous Summer Blush wine, but this year a tank was reserved for fun experiments with hopping wine.
Experiment #1:  We loaded a 15 gal glass demi-john with a dry Cayuga wine, Nelson Sauvin hop pellets, and loads of fresh Calypso hops.  After 10 days, the wine was racked off of the hop residue and bottled with 10 days.  After 6 months of bottle conditioning, we're ready to show off this masterpiece.  Unfiltered, the wine is slightly hazy and effervescent.