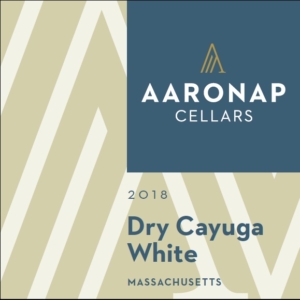 Price:  $15.00

Summary:  The Cayuga White grape was developed by oenologists at Cornell University during research to find a white wine grape that would excel in the cool climate of the Northeastern United States.  In areas like New York and New England, cayuga displays almost Riesling-like flavors and has come to be a work horse of area winemakers.
Tasting Notes:
Intense aromas of honeysuckle, lime, pineapple, & melon. Sweet & round onthe palate, the wine finishes with a crisp minerality and a lingering palate tingle.
Food Pairing Suggestions:  So many options, so little time.  Enjoy with your favorite stir fry or Chinese dish.  Excellent with spicy Thai noodle dishes or Texas chili.  Soft cheeses, BBQ meatballs, or just gathering with friends.
Technical Data
Appellation: Massachusetts         Vineyard: Coastal Vineyards, South Dartmouth, MA
Varietal Composition: 90% Cayuga White / 10 % Aromella
Aging Protocol: 12 months in stainless steel.
Alcohol: 11.5% ABV         Production Volume: 368 bottles
Vintage and Production Notes
The South Dartmouth area along the southern shores of Massachusetts escaped the almost constant summer rains that plagued the rest of the state. As the rains went north, the grapevines in Coastal Vineyards basked in the summer heat. Fall rains brought challenges of maintaining sugar and acidity. Harvested by hand in mid-October, the grapes were gently destemmed and pressed. The juice was fermented for 2 weeks at less than 65F. Sulfite addition prevented malo-lactic fermentation and the wine was aged on the lees in stainless steel to maintain the crisp acidity and intense floral aromas.  Prior to bottling, a small amount of Aromella was added to further enhance the floral aromas.