ESTATE CHACE HILL RED 2017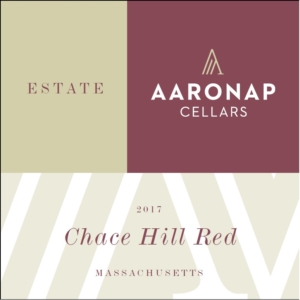 Price:  $23.00

Summary:  Our estate Chace Hill Road vineyard lies a stone's throw from the shores of Wachusett Reservoir in central Massachusetts.  Two acres of hybrid varietals Marquette and Arandell grapes flourish in the summer sun and reach maturity between Labor Day and Columbus Day.
Tasting Notes:
A dry bold red wine loaded with earthy black cherry, plum, blackberry, blueberry, and black pepper aromas.
Aging Potential: Drinkable in 2019-2020, but will reach maturity in 3-7 years
Technical Data
Appellation: Massachusetts
Vineyard:  Chace Hill Vineyard, Lancaster, MA
Varietal Composition: 73% Marquette / 27% Arandell
Aging Protocol: 3 months in Flextank followed by 6 months in a 5-year old French oak barrels. Bottled aged for an additional 5 months.
Alcohol: 13.5% ABV
pH: 3.77   TA:  6.9 g/L
Production Volume: 668 bottles
Vintage and Production Notes
2017 was a banner year for grapes in Massachusetts.  Spring sunshine brought early warmth to the vineyard.  June, July, & August remained warm, sunny, and dry.  The plump Marquette grape clusters (1000 lbs) were hand-picked on September 17.  Following fermentation with Maurvin B yeast over 7 days, the must was pressed and aged in a Flextank for 3 months during malolactic fermentation.  Almost 490 lbs of Arandell grapes were hand-picked on October 2-7 and fermented with RP-15 yeast.  Following malolactic fermentation in glass, the Arandell was blended with the Marquette wine and then transferred to a 5-year old French Oak Barrel and aged for an additional 6 months.