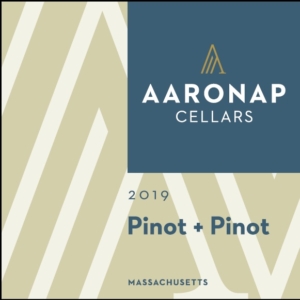 Price:  $18.00

Summary: 
Yes, Pinot Gris and Pinot Noir are red grapes….so we decided to make a white wine out of them!  Along Massachusett's South Coast, the cool maritime climate is perfect for the development of floral and citrus fruit flavors in grapes, but our short summers are simply not that great for developing the polyphenolic tannin structure needed for red wines.  To showcase the unique terroir of Massachusetts, we hand harvest and then gently whole-cluster press both of these grapes to liberate their straw-colored juice, and the rest is history!
Tasting Notes:
The nose explodes with floral aromas of honeysuckle, white roses, and hyacinths, accompanied by white nectarine, melon, and tropical fruit.  Rich and round on the palette, the finish delights with spicy lime and slate.
Aging Potential:  Drink now or cellar for 3-5 years.
Food Pairing Suggestions:  A perfect accompaniment with Chinese or Mexican take-out, Alsatian-style cheeses, mushroom ravioli in cream sauce, seared duck breast with star anise, roasted chicken, bay scallops with pesto and angel hair pasta, or hot wings.
Technical Data
Appellation: Massachusetts
Vineyard: Coastal Vineyard, South Dartmouth, MA
Varietal Composition: 76% Pinot Gris / 18% Pinot Noir / 6% Aromella
Aging Protocol: 12 months stainless steel
Alcohol: 11.5% ABV
pH: 3.29
Production Volume: 766 bottles
Vintage and Production Notes:
Pinot Gris and Pinot Noir grapes from Coastal Vineyard, South Dartmouth, MA were hand-harvested and fermented separately in stainless steel using SVG and W15 yeasts, respectively.  Following the primary fermentation, malolactic fermentation was prevented by the addition of SO2 while aging over the fine lees in stainless steel for 10 months.  The final wine was blended to taste, and a small portion of Aromella was added to elevate the aromatics.  Prior to bottling, the wine was filtered to 1.5 microns.
Previous Vintages:
2018 Pinot+Pinot