ESTATE MARQUETTE ROSÉ 2018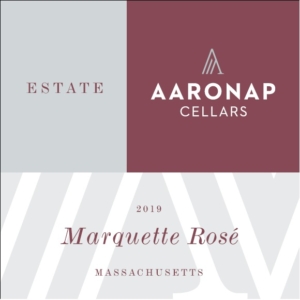 Price:  $18.00

Summary:  Our estate Chace Hill Vineyard lies almost a stone's throw from the shores of Wachusetts Reservoir in central Massachusetts.  The vineyard sprawls across a rolling hilltop and basks in the New England sunlight and summer breezes.  The Marquette grape is one of the varietals planted in this special place.  Like our winemaker, Marquette is a cold hardy grape varietal born in the Midwest that has found a new home in Massachusetts.  Loaded with fruit flavors and structure, Marquette makes a delicious dark colored and bold rosé wine.
Tasting Notes:  A dry Rosé dark pink in color and loaded with bright cherry, raspberry, strawberry, melon, and rhubarb aromas with a crisp finish of cranberries and cedar.
Food Pairing Suggestions:   Pair with soft cheeses, chicken salads, light summer pastas, or simply good friends on the back porch.
Technical Data
Appellation: Massachusetts
Vineyard:  Chace Hill Vineyard, Lancaster, MA
Varietal Composition: 76% Marquette / 24% Arandell
Aging Protocol: 12 months in stainless steel. Bottled aged for an additional 9 months.
Alcohol: 12.2% ABV
pH: 3.1
Production Volume: 371 bottles
Vintage and Production Notes
Drier weather returned to MA in 2019.  After a cold spring that resulted in a lot bud break volume, the swamp dried up and an aggressive program of antifungal sprays, cluster thinning, and canopy management eradicated the rot from the vineyard.  The dry summer continued into August and the grapes were in almost perfect condition at harvest.  Our volunteer crew easily hand-picked all 2200 lbs in about 4 hrs!   About 1000 lbs were crushed and pressed after 4 hours of skin-contact time.  Fermentation with Maurvin B yeast retained the bright red fruit flavors.  About 16 gals of Arandell rose was blended, and the wine was aged in stainless steel for 12 months before being filtered to 1.5 micron prior to bottling.
Prior Vintages