You are here:
Home
/
Pinot "Uno" 2020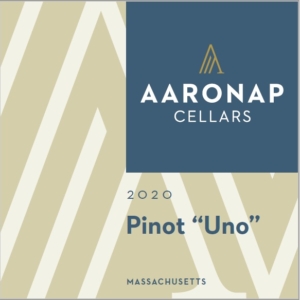 Price:  $18.00

Summary:  The wet season of 2020 in Massachusetts resulted in a failure of the Pinot Noir crop, a vital component of our regular "Pinot+Pinot" blend…so the Pinot Gris got a chance to shine!  We decided to name this solo version Pinot "Uno" to commemorate this one-of-a-kind wine.
Tasting Notes:
This big complex white wine is graced with savory dark citrus, guava, white nectarine, yellow apple, & white flower aromas, followed by broad lingering notes of orange rind and kitchen spice notes on the finish.
Technical Data
Appellation: Massachusetts
Vineyard:  Coastal Vineyard, South Dartmouth, Massachusetts
Varietal Composition: 95% Pinot Gris / 5 % Aromella
Aging Protocol: 24 months in stainless steel
Alcohol: 11% ABV
pH: 3.76
Production Volume: 592 bottles
Vintage and Production Notes
2020 was a wet year in Massachusetts with almost weekly thunderstorms.  Along the coast, off-shore breezes helped to dry the vineyard in between rain storms.  In early October, hand-picked Pinot Gris grapes were crushed and the juice was immediately pressed off the skins.  The unclarified juice was fermented with W-15 yeast.   After fermentation, the young wine needed some time to find its voice.  After aging in stainless steel for 24 months, a small amount of Aromella was added to enhance the floral notes and the wine was protein stabilized with bentonite and filtered to 1 micron prior to bottling.