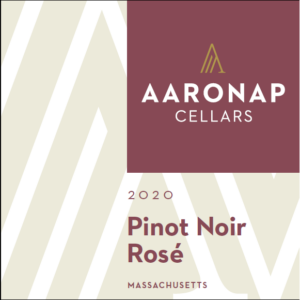 Price:  $18.00

Summary:
Almost 8 years ago, we crafted our first rose wine using Pinot Noir grown along the southern coastline of Massachusetts.  Light, aromatic, crisp…it was a fan favorite, but sadly that vineyard was destroyed during the deep snowy winter of 2015.  We were thrilled to find a new vineyard in 2020 with pinot noir grapes that blossomed in the dry summer heat.  The fruit flavors immediately pressing carried into the fermentation and resulted in this fantastic example of Massachusetts winemaking.
Tasting Notes:
A light salmon-pink color.  The nose is loaded with notes of white peaches, Bosc pear, pink flowers, strawberries, and pineapple.
Aging Potential: Drink now for summer fun!
Food Pairing Suggestions:  Grilled scallops or shrimp, creamy cheeses, a bowl of fresh fruit, crisp vegetable crudites, roast chicken, or simply enjoy with a good friend on the back porch.
Technical Data
Appellation:  Massachusetts
Vineyard:  Coastal Vineyards, South Dartmouth, MA
Varietal Composition: 95% Pinot Noir and 5% Aromella
Aging Protocol: 11 months in stainless steel.
Alcohol: 11.5% ABV
Production Volume: 373 bottles
Vintage and Production Notes
The South Coast of Massachusetts enjoyed a dry summer and fall in 2020, allowing grapes to fully ripen in the warm New England sunshine.  After hand harvesting, the pinot noir grapes were lightly crushed and pressed immediately.  The settled juice was fermentation with W-15 yeast in stainless steel.