INNOVATIVE WINES…
CRAFTED IN MASSACHUSETTS!
We source the highest quality grapes and fruit from carefully selected partner vineyards and orchards in New England and beyond. In the winery, our winemaker guides each batch through the winemaking process by hand using techniques that elevate and enhance the qualities of the fruit to produce innovative artisanal wines.
READ MORE
Southeastern New England
Just in time for the warm days of summer, we offer a slightly off-dry rose made from pinot noir grapes grown right here in Massachusetts.  Aromas of strawberries, white peaches, and flowers bring to mind that perfect summer day.  Enjoy by the pool, on the deck, or at the beach!
Price:  $13.99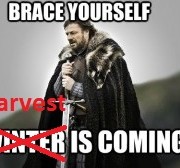 As summer begins to wind down, a winemaker's thoughts turn to the pending events to come in the next couple months. Harvest—it can be a dirty word for winemakers!