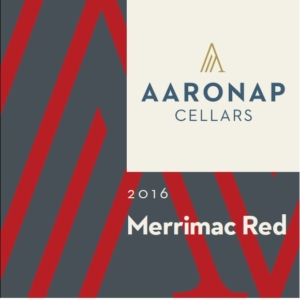 Price: $25.00
Summary:  The Merrimack River winds through New England on its way to the Atlantic Ocean.  On the right bank sits Aaronap Cellars where we craft this fine example of a "Right Bank Bourdeaux" style red wine.  We began our vintage painting with merlot from the Suisun Valley, CA and then added layers of complexity by blending in cabernet franc, cabernet sauvignon, and petite verdot.
Tasting Notes:
A full-bodied dry red wine that brims with intense aromas of blackberry, plum, black currant, cocoa, mint, & leather aromas.  Dancing tannins linger on the finish and add a rich spiceyness.
Aging Potential: Drink now through 2022.
Food Pairing Suggestions:  Excellent with a hearty meal of grilled steaks, kale & sausage soup, roast chicken, grilled mushrooms, an aged cheddar or gouda cheese, beef wellington, roast pork, or lamb.
Technical Data
Varietal Composition: 50% Merlot, 30% Cabernet Franc, 12% Cabernet Sauvignon, 8% Petite Verdot
Aging Protocol: 60 months in a mixture of French & American oak barrels. Bottled aged for an additional 6 months.
Alcohol: 14% ABV
pH: 3.63
Production Volume: 595 bottles
Prior Vintage Notes
2013 Merrimac Red