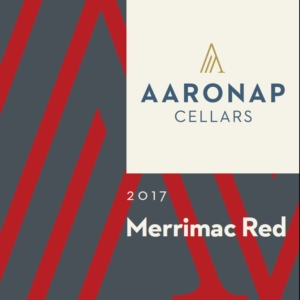 Price: $25.00
Summary:  The Merrimack River winds through New England on its way to the Atlantic Ocean. In keeping with Aaronap Cellars' perch on the right bank of the mighty Merrimac (as historians call it), we craft this fine example of a "Right Bank" Bourdeaux style wine…with a Yankee twist. We started with merlot and cabernet franc grapes as a base for this vintage painting, and then added layers of complexity to highlight the masterpiece with a touch of cabernet sauvignon and petite verdot.
Tasting Notes:
A full-bodied dry red wine that brims with intense aromas of blackberry, plum, black currant, cocoa, mint, & leather aromas.  Dancing tannins linger on the finish and add a rich tough of spice.
Aging Potential: Drink now through 2030.
Food Pairing Suggestions:  Excellent with a hearty meal of grilled steaks, kale & sausage soup, roast chicken, grilled mushrooms, an aged cheddar or gouda cheese, beef wellington, roast pork, or lamb.
Technical Data
Varietal Composition: 40% Merlot, 40% Cabernet Franc, 10% Cabernet Sauvignon, 10% Petite Verdot
Appellation:  American (Yakima Valley, Washington)
Aging Protocol: 45 months in a mixture of French & American oak barrels. Bottled aged for an additional 6 months.
Alcohol: 14% ABV
Production Volume: 746 bottles
Vintage and Production Notes
The 2017 vintage in the Yakima Valley, Washington started out with a cool, wet winter and cool spring. As a result, bud break was behind historical averages. Despite the cool start, July and August trended towards slightly higher than average temperatures so harvest began right on schedule, However, temperatures cooled considerably in the second half of September to allow for luxurious amounts of hang time without the threat of increased sugar accumulation, stretching harvest into the first week of November. This added hang time is reflected in the rich flavor profile and broad mouthfeel. Each grape was fermented separately and also aged separately in oak barrels for 3 years before being blended prior to bottling.
Prior Vintage Notes
2013 Merrimac Red