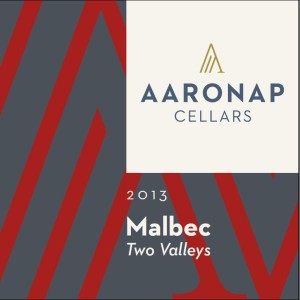 Price: $21
Summary: Once widely planted in France, malbec has found a new home in South America.  The dry coastal wine growing regions of Chile offer an optimal environment to grow malbec, where it can be planted on its own roots for full varietal expression.  We blend malbec from two of Chile's premier wine regions to produce an elegant dry red wine.
Tasting Notes:
Ruby red in color.  Seductive aromas of black plum, blackberries, woodsmoke, & black truffle invite you in.  Broad mouthfeel with pleasant acidity & black pepper on the finish.
Aging Potential: Drink now through 2020.
Technical Data
Appellation: 66% Curico Valley and 34% Colchagua Valley, Chile
Varietal Composition: 88% Malbec, 8% Cabernet sauvignon, 4% petite verdot
Aging Protocol: 12 months in 1 yr old American oak and Hybrid (American oak staves and French oak heads) barrels. Bottled aged for an additional 9 months.
Alcohol: 13.1% ABV
pH: 3.70
Production Volume: 674 bottles
Vintage and Production Notes
The 2012-2013 growing season in Chile was one of the coolest vintages in the past decade.  Fortunately, the centrally located Curico & Colchagua Valleys were spared the severe December rainstorms that ravaged regions to the north and south.  The cool growing season resulted in slow ripening of the grapes, and, consequently, lower alcohol levels, lighter tannins, and more elegant aromatics.
In the winery, the grapes from each region were fermented separately, with vigorous punchdowns and powdered oak additions to control herbaceous flavors.  The Curico Valley malbec was aged in a 1 year old American oak barrel, while the Colchagua malbec was aged in a hybrid barrel with American oak staves and French oak heads.  After blending together, a small amount of cabernet sauvignon and petite verdot was added to emphasize the dark fruit aromas and tannic structure.
Interesting links
Here are some interesting links for you! Enjoy your stay :)