<![CDATA[Shhhh…did you hear there's a new wine in town?  I'm getting ready to release the 2012 PS Project, our first big, bold red wine, in the next month or two.  I'll readily admit that the name is a bit odd, but it's a great example of the premise behind my winemaking at Aaronap Cellars.  I view each wine as a series of projects combining art, history, & modern science to produce extraordinary wine.  The PS Project is focused on featuring petite sirah as the star varietal in a big, full-flavored, & tannic red wine. Petite sirah was actually one of the first grapes I encountered during my introduction to wine while I was a graduate student in southern California.  A friend of mine bought wine futures from a small winery in Sonoma County called David Coffaro Estates and one of their wines that I fell in love with was their estate-grown Petite Sirah.  Incredibly dark, intense fruit aromas, and chewy tannins burst out of that wine and propelled me into the world of wine.  However, as much as I love petite sirah, it's not easy to find on liquor store shelves since it's primarily used as a blending agent in other wines to improve color, fruit balance, and tannin profile.  Only recently have petite sirah wines begun to find commercial acceptance…and I'm hoping to continue that trend! Petite sirah was first identified as a spontaneous cross-pollination of syran and peloursin vines that were growing in a home nursery in Toullins, France owned by Francois Durif.  The resulting vines were found to have good resistance against fungal diseases and started to be planted elsewhere in France under the name of Durif.  Eventually Durif spread to Austrialia, Israel, Chile, and eventually California where it became known as Petite sirah in reference to the size of the grape berries.  You may see it misspelled as "Petite syrah", which historically refers to a small-berried clone of syrah planted in the Rhone Valley of southern France, but most California petite sirah has been shown by DNA fingerprinting to be Durif vines.  Until the 1960s, petite syrah was the most widely planted grape in California because of its ability to produce wines with bold blackberry aromas, high tannins, & age-ability.   Plantings have decreased since as other varietals like cabernet sauvignon demanded higher prices & cachet. The major plantings of petite sirah in California are in the Lake, Mendocino, Sonoma, & Napa Counties.  I source petite sirah for the PS Project from the Suisun Valley which has come to be known as an extraordinary place to grown petite sirah.  Located just to the east of Napa Valley, the proximity to the Sacramento River estuary into San Francisco Bay brings moist winds off the bay for most of the year that keeps the grapes cool during the warm summers.  This allows the grapes to ripen while maintaining good acidity.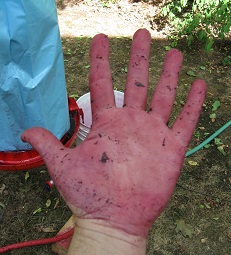 The small, thickk-skinned berries of petite sirah result in a high skin-to-juice ratio with plenty of extractable tannins.  Unlike other varietals where tannin extraction is difficult, the biggest issue with making petite sirah is extracting too much tannin!  This can result in highly tannic wines that require a long aging time to become drinkable, so restraint is the name of the game.  Even then, making petite sirah wine is usually an exercise in staining your hands & clothes (as vividly shown).  The 2012 PS Project is remarkable for its silky smooth tannins & lingering mouthfeel–a testament to the gentle care that we treat this wine.
 One of my favorite things about petite sirah winemaking is the fact that it takes on strong aromas of cocoa & melted chocolate as it ages in new oak barrels.  The 2012 PS Project was aged in a mixture of new French & American oak barrels to really emphasize this feature.  To balance the upfront chewy tannins of petite sirah, I blended in 25% cabernet sauvignon (also from the Suisun Valley) to add some finer tannins
Hopefully I've provided some insight into the wine and grape variety behind our PS Project wine that focuses on petite sirah and made your taste buds water to try some!  We'll be releasing our first 2012 vintage in May, 2014 so stay tuned.]]>
Noel Powell
https://aaronapcellars.com/wp-content/uploads/2019/04/aaronap-logo2019.png
Noel Powell
2014-03-11 03:00:19
2014-03-11 03:00:19
PS Project….What's in a name?